Saturday 04/21/2007 - 9:34:07 am
Posted By: Jonathan
"A Day In The Life" Released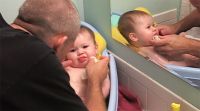 On March 28 I hired a film crew to follow Nadia and I during one of our typical days. The editors just now forwarded over the final product. I apologize that it took nearly a month to complete, but when it has to go through the special effects guys and the sound engineers it's gonna take some time!
Nadia and I had a great time filming this, and have enjoyed the response we've received so far for the preview video on the motorcycle. I hope you enjoy the video, you can view it by clicking the following link:
A Day In The Life
And as always, Nadia loves to read your comments!