Friday 04/06/2007 - 10:15:18 pm
Posted By: Nadia
Welcome to Raising Nadia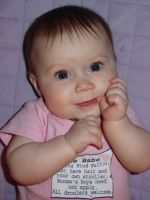 Welcome to my website, RaisingNadia.com. It's been in the making for seven months now, coincidentally the same age as me. My Dad began programming it the week I was born, and I guess he's been short on time for
some
reason since then.
My name is Nadia Jewel Warren, and I entered this world on August 28, 2006. I allow Jack Black, LeAnn Rimes, Jason Priestly, and Shania Twain to call this day their birthday as well. My Dad says 8/28/06 is a good even number, he has something against odd numbers.
In my upcoming blogs I'll let you know how my first seven months of life have gone and the scoop on day to day events. I plan on sharing lots of photos and videos. Actually, my Mom and Dad will help me with that as I don't quite know how to resize images yet.
Thanks for reading my first blog post, and I hope you enjoy the site. I look forward to reading your comments, and sharing my life with you.